REVIEW: TCM Guasa Facial with White Tea Essence
Guasa is an Asian treatment that uses the horns of water buffaloes to promote blood circulation and help with lymphatic drainage to remove toxins from the body. Normally used to treat internal and external pain in the body whereby the affected area is scraped till it is red and sore.
This ancient healing therapy has been adapted by TOUCHE™ and given a modern twist with pampering white tea essence which is a powerful antioxidant to promote skin renewal and protection. You also do not have to worry about your face looking red and sore after treatment, instead, customers will leave with revitalized and glowing skin. Particularly good for people afflicted with dull, dry skin and/or eye bags and dark eye circles due to poor blood circulation.
Treatment process:
My therapist first double cleansed my face, this is followed by a gentle exfoliation with a machine to remove dead skin cells. I liked the fact that she applied a separate eye exfoliating cream on my delicate eye area. Extraction followed and my therapist scoured every inch of my face diligently, making sure that she got every blackhead out. To soothe my skin, a cooling aloe vera cream was applied and a machine that felt like ice cubes going over my face was applied. The therapist then switched the machine to a warm mode and massaged my eye area.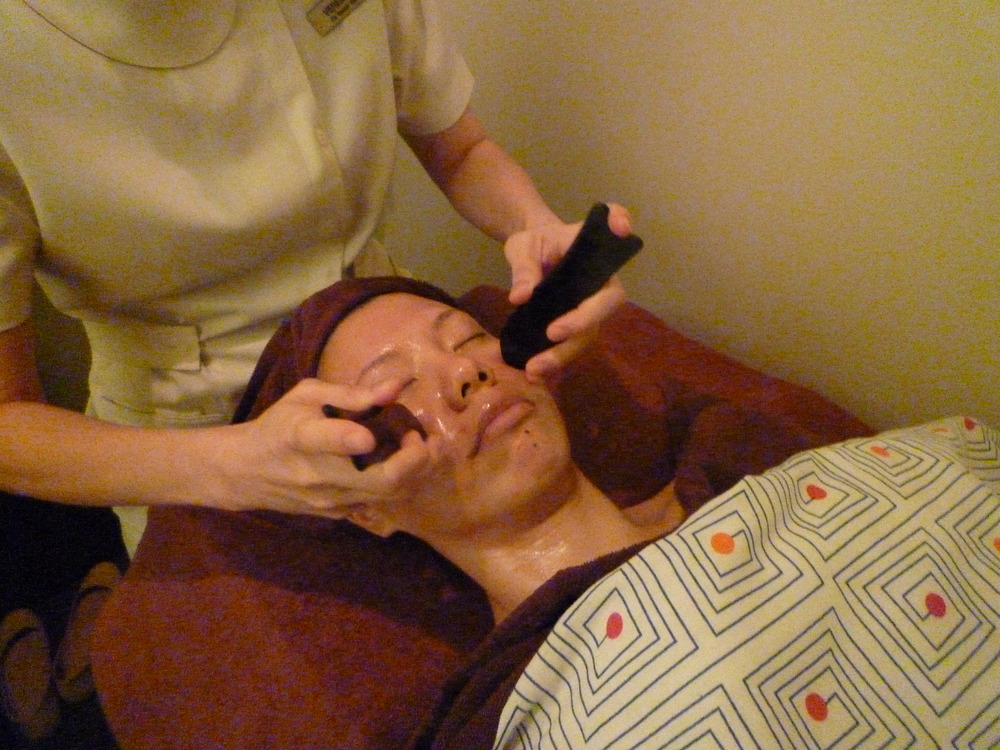 Next, the Guasa treatment. This was a very interesting experience for me as I have never had Guasa before. It felt like plastic spoons going over my face and my therapist performed a combination of pressure-point, sweeping and uplifting strokes all over my face. It felt strangely therapeutic after a while. After 15 minutes, my therapist switched to her hands and gave me a vigorous yet soothing Tui Na-style massage. A herbal-smelling volcanic mask to further purify and detox my skin completed my treatment.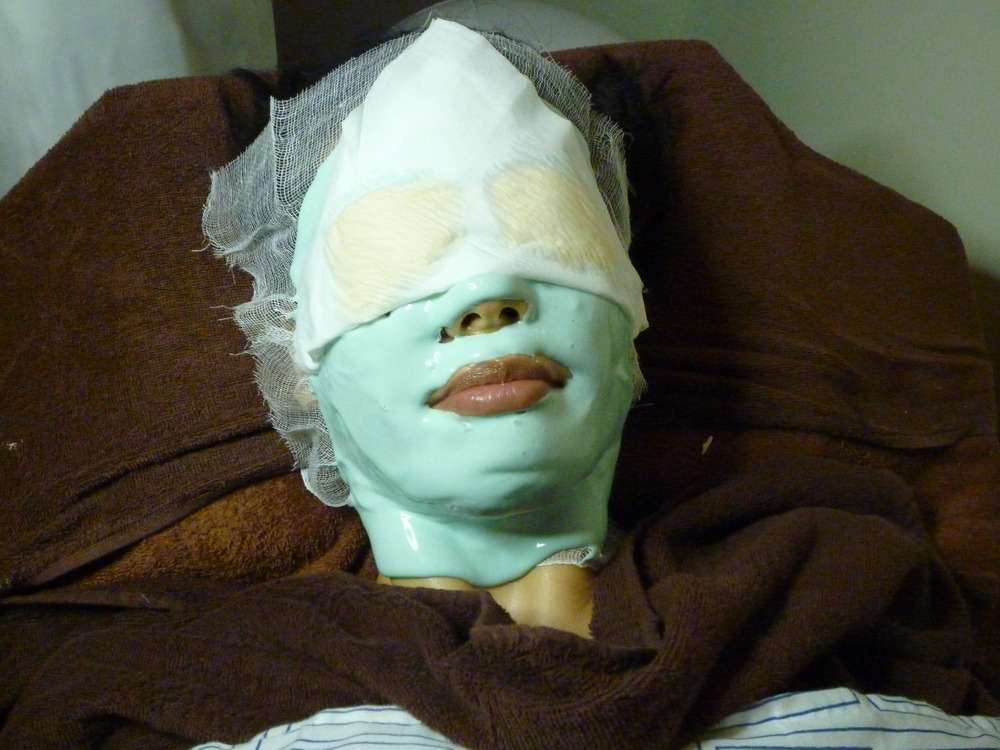 Results:    
My face felt very smooth (no more blackheads!) and had a slight rosy flush, like I had just gone for a run. Is that my blood circulation working after the treatment? I sure hope so!
TCM Porcelain Guasa Vitality Body Massage
To start, my therapist asks me to select a body oil – relaxing or detox. Being kiasu, I of course chose detox! Unlike the facial, the Guasa here has the added benefit of heat therapy. It is done using two heavy porcelain domes with bumps at the bottom which are attached to wires for electricity to generate heat. After a relaxing pressure point massage, these warm domes are then massaged on my back. I like that the therapist bothered to ask me about my problem areas so that she could focus on those spots more.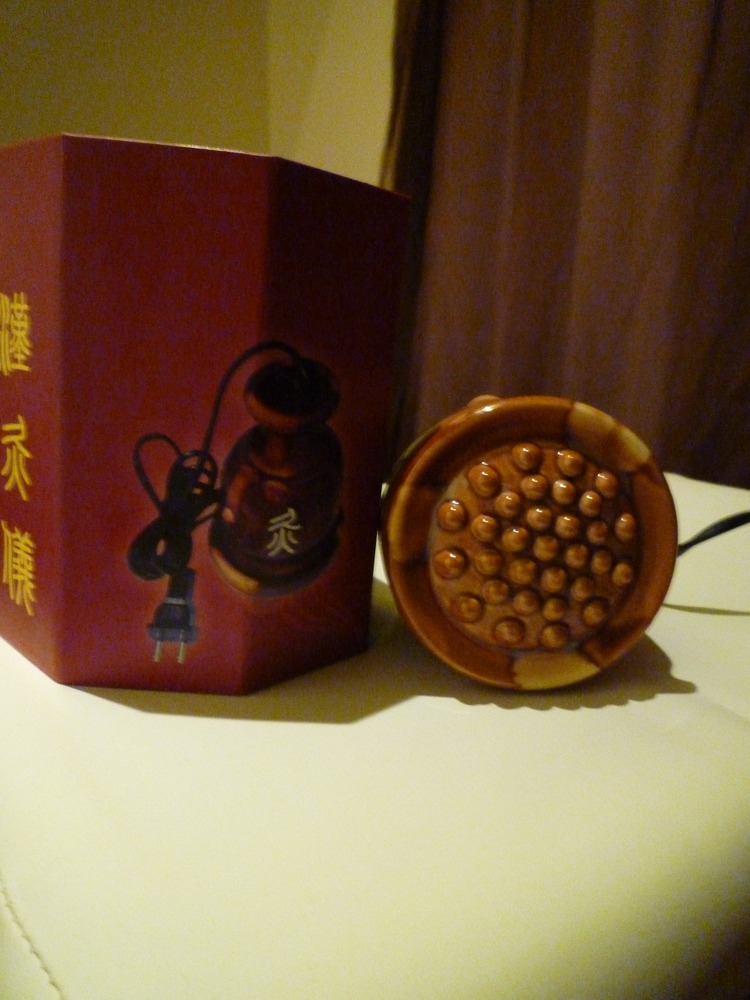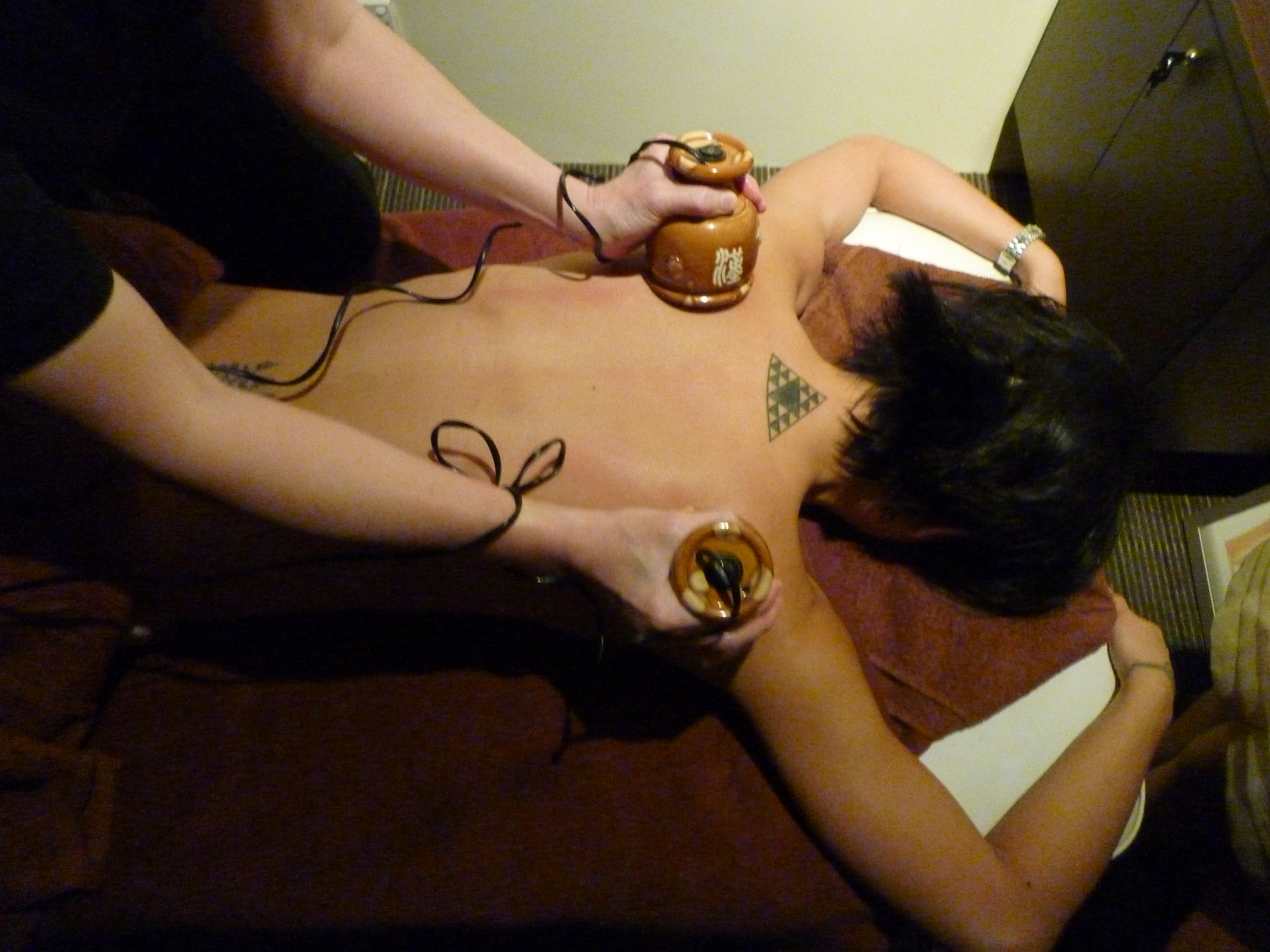 Anyone performing this treatment will have to excel at multi-tasking as you have to wield these heavy domes which can feel too hot when left on one spot for too long. You also have to ensure that the wires do not get tangled up and move towels around so that only the area being massaged is exposed. It is not an easy task and I felt that my therapist did a commendable job, but can't be compared to the dexterity of my facialist. I would have also preferred if she had wiped me clean of the massage oil after the treatment. Maybe this oil is meant to be left on my skin to treat it but it left me feeling like a snail, leaving an oily trail everywhere I went.
This treatment is good for relieving aches and pains in muscles and joints, enhance "qi" flow for detoxification, and even relieve arthritis.
TCM Guasa Facial with White Tea Essence
Duration: 90 minutes
Cost: $98 for trial, $268 regular price
TCM Porcelain Guasa Vitality Body Massage
Duration: 45 minutes
Cost: $88 for trial, $138 regular price
Location:
TOUCHE™ Beauty Infinity
9 Tan Quee Lan Street #01-02
TQL Suites, Singapore 188098
(Opposite Bugis Junction)
Tel: 6238-0500