Thermage – Anti Aging Laser Treatment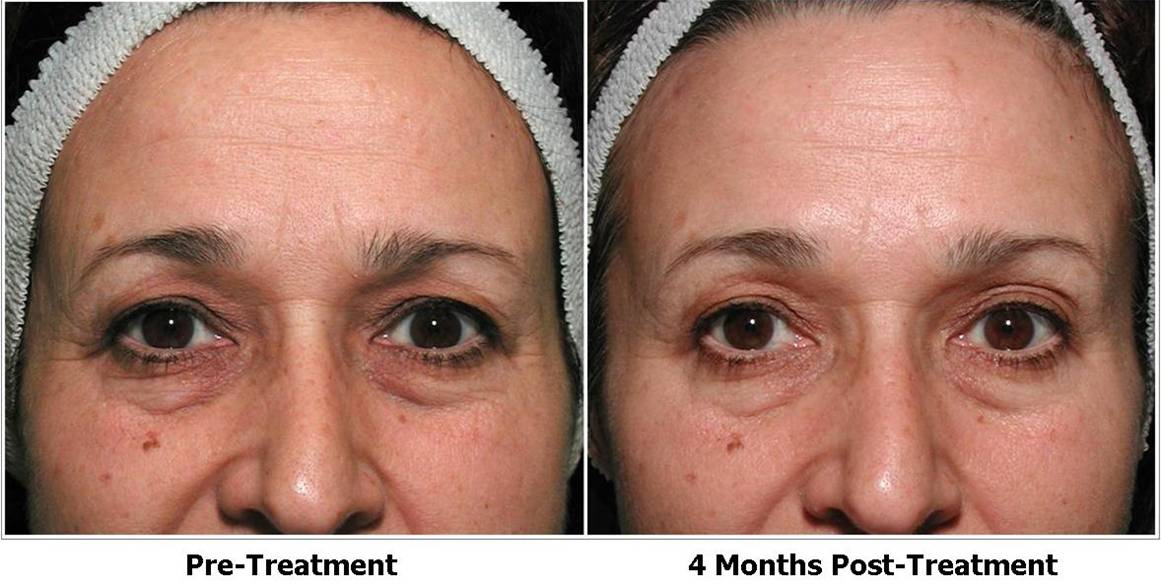 Thermage uses a patented radiofrequency (RF) technology called Thermacool. With each touch of the Thermage treatment tip, you will experience a brief, intense heating sensation as the collagen in the deep layers of your skin is tightened.   
What is Radiofrequency (RF)? 
Radiofrequency is an energy that causes heating by using radio waves. RF waves generate deep heat which rejuvenates and tightens deep skin tissue and causes fat cells to disrupt and skin to tighten. 
RF treatment enhances the skin's natural texture and rejuvenates the deep skin tissue to tighten and restore the bright, clear texture of youthful skin. 
RF treatment can create dramatic change without the need for invasive surgery and needles.
Is it painful? 
To protect your skin and make Thermage more comfortable, a cooling spray is delivered before, during and after each application of the treatment tip.  
Additionally, as part of pretreatment, anesthetic cream is usually applied to further enhance your comfort. 
How Thermage works 
The heating action causes tightening as well as improved tone and texture. Thermage treatment improvements will continue and become even more noticeable 4-6 months following treatment due to collagen growth and may last up to 2 years varying from patient to patient. 
Thermage is used for: 
–      Anti aging
–      Skin tightening
–      Skin cell renewal
–      Face lift
–      Eyebrow lift
–      Eyelid lift
–      Dark eye circles
–      Eye bags
–      Facial contouring
–      Facial fine lines
–  Body shaping and tightening
Benefits of Thermage:
–      Improves blood circulation
–      Improves skin laxity
–      Relaxes tightened muscles
–      Stimulates skin collagen and elasticity
–      No downtime
What kind of results should I expect from Thermage?
Most patients have seen:
– Smoother, tighter skin with less sagging.
– Redefined contours along the jaw line and under the chin.
– Softening of wrinkles and fine lines around the mouth, eyes and forehead.
– Tightening of saggy skin under the chin.
How many treatments of Thermage do I need?
Ideally, a single treatment of Thermage to start with the treatment process. It can be combined with other RF therapies (Antilax or Indiba) to maintain or improve it depending on patient's skin and lifestyle.
How long will results last?
The effects continue to improve for up to six months following a single treatment. Results can last up for years depending on your skin condition and natural aging process.
<<Back to Anti Aging Solutions
Learn more about anti aging and laser treatments:
Botox is an anti wrinkle treatment can help take away those stress lines which can make you look angry even when you aren't.
Radiesse wrinkle filler is a next-generation product that does more than fill in lines and wrinkles.
How rosacea or redness of the skin, is treated with laser treatment.
IPL is used to treat acne scars and pigmentation as well as other skin conditions.
A form of IPL, this anti aging laser treatment can be used to treat pigmentation like freckles, age spots and rosacea.
How radiowave technology can be used to remove moles, age spots, skin tags and warts.
A laser treatment such as one using the Spectra VRM II is a good choice for tattoo and scar removal treatments. Find out how.
Microdermabrasion is commonly used for wrinkles and acne scars. This anti aging treatment can also be used to treat acne, dull skin, enlarged pores and blemishes.
Using IPL, laser hair treatment slows the growing capacity of follicles in the hair growth cycle at the time of the treatment and is a hi-tech way of removing hair permanently.
Breast enlargement without plastic surgery is now possible with breast fillers.
Cellulite skin treatment using Radio Frequency. Say goodbye to dimpled and orange peel skin forever.
LipoSelection uses state-of-the-art technology to reshape your body – providing smoother and faster results.
A chemical peel is a facial treatment using acid on the skin to achieve a controlled burn to the top layers of the skin.