Ask The Doctor
Do you have any pressing aesthetic or plastic surgery questions you've been dying to get off your chest? Simple send me your question/s using the form below and I'll get experts to answer your questions pronto!
Pigmentation Questions Answered By Dr Joyce Lim!
Dr Joyce Lim is a well-known dermatologist who is committed to advancing the diagnosis and medical, surgical, and cosmetic treatment of the skin, hair and nails at her clinic, Joyce Lim Skin and Laser Clinic. Located in the heart of Orchard Road at the Paragon Medical Centre, part of her practice is devoted to non-surgical, non-invasive treatments for facial and body enhancement and rejuvenation.
Q: What is the cause of skin pigmentation?
There are many causes of skin pigmentation. Some of them are birthmarks, eg naevus of Ota or café au-lait macule, while others are acquired, ie. come in after birth. They may be formed after skin injury eg, after burns or cuts or after skin problems like acne or eczema or after skin treatment like laser or chemical peels. There are pigments that are formed as a result of sun exposure, eg freckles or with age and genetics, eg melasma or age spots.
Q: What can I do to lessen my pigmentation?
Avoid aggravating factors like sun exposure and hormonal intake.
For birthmarks the treatment option is usually pigment specific laser or to leave it alone. For acquired pigmentation, you can use skin lightening creams like hydroquinone which will inhibit melanin production. Other whitening agents include arbutin, kojic acid and fruit extracts. To prevent post injury pigmentation, one should prep the skin before any procedure for two weeks usually with creams containing hydroquinone or fruit acids.
Q: Why does my pigmentation get worse after laser treatments?
When laser light enters the skin, the light is converted to heat. The heat stimulates the pigment producing cells, the melanocytes, to produce pigments. This usually comes on within a week after the laser treatment and is often seen in person with a darker skin tone.
Q: How can I prevent that from happening?
If you are prone to post-laser pigmentation you will need to prep the skin with a cream containing hydroquinone for at least 2 weeks before the procedure and continue for a month after.
Q: Can you recommend some good lasers for scars, acne and pigmentation?
There are different lasers for different problems. Basically to clear pigmentation, one should use the any of the  QSwitched lasers namely the QS NdYAG laser or QS aleaxanderite laser or the QS Ruby laser. For Asian skin, the QS Nd YAg is considered the safest.
For acne, there are lasers to reduce the size and activity of the oil glands. These are the non-ablative lasers, eg the Cooltouch or Smooth Beam or the Aramis laser or the vascular specific laser like the Vbeam Perfecta. These lasers also stimulate collagen production and hence improves acne scars.
For acne scars, the resurfacing lasers are better. There are two types – the ablative lasers, eg Fractional CO2 laser, Fraxel Repair or ErYag laser or the non-ablative, eg Fraxel 1550nm Restore. Another technology is to use plasma resurfacing which is not a laser but rather using plasma energy to smooth out skin.
Q: I am prone to breakouts, what can I do to improve the situation?
Acne is due to oil glands being active, getting infected and blocked. Therefore, treatments include unblocking the oil glands using creams that contain tretinion or related products and reducing bacteria load like applying topical antibiotic. If the acne is severe, then oral medication may be needed, eg oral antibiotics, hormones or oral isotretinion.
To clear acne faster one can also have chemical peels, micrdermabrasion or laser treatment. I would also recommend patients to stop applying sunblock for severe cases until their acne clears up.
Q: What are the basic creams I should apply for good skin?
Moisturizer, sunblock, cleanser – any ingredients are ok but choose one for your skin type.
Q: Can you recommend some off-the-counter products that are good?
Any reliable brands, for eg, Neutrogena, Olay or L'Oreal or the high end brands.
Q: Why do you advocate creams more than laser treatments?
It really depends on the skin problems. Creams are used for maintanence and to clear skin problems. As most pigmentation are ongoing like melasma, creams will form the mainstay of treatment.
However some conditions, like birthmarks, cannot be treated with creams, so laser is needed.
Readers Questions Answered By Dr Isabelle Yeoh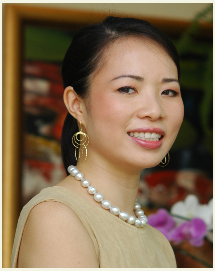 Dr Isabelle Yeoh runs IYAC, a comprehensive and results-driven aesthetic clinic that offers an integrated approach to beauty and health, through a combination of aesthetic procedures, skincare, nutritional therapy and bioidentical hormone balancing, to achieve well-being and youthful beauty from inside out.
Believing strongly in the power of good nutrition and nature's ability to heal the body given the right nutrients and environment, Dr Yeoh has a preference for using natural alternatives such as supplements, herbs or nutrients instead of using medication where possible.What makes IYAC unique is its ability to offer the latest external treatment therapies, in addition to looking at wellness, nutrition and hormone balance in the anti-aging challenge.
Dr Yeoh's passion is to create natural, youthful and subtle-looking results that complement each individual. She often prescribes combinations of treatments together with lifestyle changes. "I like my patients to look fresh in a natural way. The best compliment is when they receive comments that they look good like they've just been back from a holiday."
Q: I'm in my early 20s and have bad acne. I've tried all sorts of creams and cleansers but none works. Help!
Dr Yeoh: The fastest and quickest way is probably to go for a series of laser treatments for acne which work by suppressing the oil glands. This works best for those with oily or combination skin.
Q: What kind of cosmetics and cleansers is suitable for acne prone skin?
Dr Yeoh: Use a salicylic-acid based cleanser to reduce surface dead skin. An oil-free moisturizer is a must for pimples to heal and marks to fade off quickly. Mineral makeup can be used to cover red marks.
Q: Is there anything I can do about the growing amount of pigmentation on my face?
Dr Yeoh: If you are pigment-prone, sun avoidance is a must to prevent it from darkening. After which the options available are lightening creams and/or treatments such as laser, IPL, chemical peels, vitamin C facials. Which treatment option depends on the kind of pigmentation you have.
Q: How can I get my healthy glow and firm cheeks back?
Dr Yeoh: Firstly by having good lifestyle habits such as getting enough rest and relaxation. After which treatments like a combination of IPL and a peel give immediate results to freshen and brighten up the skin.
Q: I am slim but my face looks bloated. How can I make my face slim?
Dr Yeoh: Radiofrequency treatments help to slim the face down due to the immediate skin tightening effect. Botox can also be used to contour the jaw for a slimmer and more oval shape in suitable candidates.
Q: Can I get my mole on my cheek removed non-surgically?
Dr Yeoh: Yes, if it is a palpable mole. No for flat moles.
Q: How can I get rid of my eyebrow tattoo?
Dr Yeoh: 1-2 laser treatments usually clear eyebrow tattoos effectively.
Q: After pregnancy, I've been left with baby pooch and saggy skin everywhere. What treatments will help me?
Dr Yeoh: A series of Radiofrequency treatments help to tighten and tone skin, reducing fat and cellulite. A series of microcurrent treatments (like the Ion Magnum or Arasys), which work like a form of effortless exercise, converting fat to muscle, are also effective for fat reduction, skin toning and reducing cellulite.
What You Need To Know About Laser Treatments
 Dr Dana Elliott from VIP Healthcare has worked in a number of disciplines including obstetrics, gynaecology, geriatric medicine and palliative medicine at various hospitals. His foray into aesthetic medicine began more than two years ago and was inspired by the wishes of his patients to feel good about themselves and be motivated to stay healthy. He is currently the honorary secretary of the Anti-Aging and Aesthetics Medicine Society of Singapore. You can check out Dr Elliott's blog, http://wordpress.beatitudes.sg/, for more health features.
Q: I have done facial scrubs, extraction and massages, etc at spas but they don't help the dark spots on my face. What can I do?
Dr Elliott: In that case, let me introduce to you two methods of reducing pigmentation. One is a facial peel and the other, laser treatments.
Q: What is the difference between a facial peel and a laser treatment?
Dr Elliott: A facial peel uses modified-natural occurring acids to exfoliate the superficial layers of the skin, and this will enable new skin to grow faster from below. There are a few laser types for aesthetic treatments. They fall on a spectrum from a mild to the more intensive. These laser treatments also enable new skin to grow faster. The two methods differ in that the facial peels uses a chemical reaction means, while the lasers uses light physics for their effects.
Q: How do I choose which one is best for me?
Dr Elliott: It depends on a few things. Firstly, the current condition of your skin. An older person has a worse skin condition than a younger person because of the simple reason of longer exposure duration to the environment, if you have not been taking care of your skin before. Secondly, your lifestyle will depend on which treatments are best suited for you. Thirdly, it depends on your preference of which treatment is comfortable for you. You will want to choose a treatment that you feel most comfortable so that you can benefit from it in the long run.
Q: Are these laser treatments harmful to my skin?
Dr Elliott: Any treatment to your face or body has potential problems if the treatments are not done in a safe manner. This is why for the facial peels, we use light concentrations of acids and for the laser treatments, we have a treatment plan that ensures safety for any skin type. Should there be any complications from the treatment, we will ensure that they are kept to the minimum and reversible.
Q: How effective are these laser treatments?
Dr Elliott: These laser treatments are effective so long as your skin is able to follow through the treatment plan. Also, the duration needed for reduction of the pigmentation also depends on the type of pigmentation that you have. Most pigmentation are caused by sun exposure. These are the easy ones to treat. For pigmentation that is caused by hormonal changes, these can be more difficult to treat. The more intensive the treatment, the better the results.
Q: What other benefits can these laser treatments have?
Dr Elliott: These treatments, as we progress to more intensive ones, can also help to minimize open pores, tighten lax skin, get rid of fine lines and scars.
Q: Can I start out with the more intensive treatments?
Dr Elliott: Yes, you can, provided if you know that you did not have any complications from other laser treatments of lower intensity. What I recommend for anyone who has not done any laser treatments before is to start off with a laser treatment that is comfortable for you and build up from there.
Q: Will doing laser treatments thin the skin?
Dr Elliott: That is not true. This is because the healing process of the skin will regenerate the growth of new skin. It is this healing process that gets rid of the pigmentations and fine lines of the skin.
Q: If I decide to stop my laser treatments, will my skin condition get worse than before?
Dr Elliott: If you do not start any laser treatment, your skin condition is guaranteed to get worse. What any of these treatments do is to slow down the degeneration of your skin. If you decide to stop at a later stage, your skin can only be as bad as what you started out with. All patients will have better skin than when they first started out with, provided the treatment plan is being followed.
Q: I want my pigmentation to be removed by the next week. Can this be done?
Dr Elliott: Based on the recommended treatment plan, the interval between laser treatments is two weeks. Subsequently, the interval can be lengthen to one month. At a later stage, when we recommend you to go on to the more intensive laser treatments, the interval can further lengthen to between three to six months. This will be the maintenance phase.
Q: Why do I need maintenance treatments?
Dr Elliott : Just like exercise, you will need maintenance treatments to upkeep the results that you have achieved from the treatment plan.
Q: Can I continue with my facial treatments while on your treatment plan?
Dr Elliott: I encourage all to carry on with other treatments at the spa, so long as they are not done on the same day. Give yourself at least two weeks after any peel or laser treatments before doing any treatments at the spa. It is actually more beneficial to have both treatments as they complement each other.
Popular Questions and Answers:
Dr Vanessa Phua's mantra targets the preservation of her patients' youth with her aesthetic services that focus on both anti-aging as well as rejuvenation. Trained as an ophthalmologist in the United Kingdom, she worked at the National University Hospital for a year with an interest in oculoplastics which is the reconstruction and beautifying of the eye area. She decided to go into aesthetic medicine six years ago as she felt compelled to have a more holistic approach to her treatments.
Q: What is the best way to remove stretch marks?
Dr Vanessa Phua: Stretch marks are caused by the stretching and expansion of skin with differential pressure over time. Most commonly seen in growing adolescents, post pregnancy and also after severe weight fluctuation. There is no guaranteed magic way of removing them in its entirety, but laser and chemical peels will lighten them and improve the skin texture of the stretch marks over time. The appearance will change due to the renewed skin, and the skin will be healthier in texture and appearance. Several sessions will be required to treat this.
Q: How can I reduce the appearance of nasolabial lines without injecting fillers?
Dr Vanessa Phua: Nasolabial lines are caused by loss of volume in the lines, and also by the downward sag of the skinfold overlying it. Thermage (patented deep radiofrequency) can be used to tighten the skin around it and lift the skin to reduce the deep appearance of the line. More invasive procedures such as the Papillon revitalizing threadlift of the midface (this uses absorbable threads which are barbed along its length) to lift up the soft tissues of the mid face, reducing the appearance of the nasolabial line.
Q: How can I lift the eye area subtly without surgery?
Dr Vanessa Phua: Thermage will tighten the skin around the eyes and lift it subtly. This causes skin and collagen to contract intially, with subsequent remodelling of the skin around the eyelids. No recovery time, quick procedure, non surgical, subtle but noticeable.
Q: What skin treatment is most effective for removing acne scars (ice-pick and orange peel)?
Dr Vanessa Phua: The Sciton microlaser peel using erbium yag laser is my preferred choice. This causes a little redness and crusting around the acne scars but remodels and smoothens the skin. Again, several sessions are required to efface scars.
Q: Can breast fillers be used to lift saggy breasts and will I be able to breastfeed after treatment?
Dr Vanessa Phua: Breast fillers will lift saggy breasts for sure, by filling in the lost volume. As the fillers are injected under the breast tissue under a local anesthetic, breast feeding is still possible after breast fillers. However, I generally encourage my patients to have breast fillers after they have completed their family. Breast size and volume fluctuates with each pregnancy and breast feeding tends to cause the skin and volume of the breasts to alter.
Q: Is there a way to prevent or slow down the progress of sagging eyelids?  
Dr Vanessa Phua: Yes, a good eye cream which contains plant hexapeptides or plant growth factors, vitamins C, E and B (Papillon eye elixir for instance) which help in skin cell health and integrity will help to slow down saggy eyelids. Avoid excessive manipulation and tugging of the eyelids as this would loosen the skin, and always wear a sunblock when outdoors, remembering the eyelids. Use UV sunglasses as this protects the eyelids and eyes against UV damage, which can weaken the skin structure and denature collagen. Lastly, Thermage for eyelid skin tightening is also preventive in that you actually tighten skin and build skin strength over time, hence you cheat with ageing eyelid area. 
Learn more about anti aging and laser treatments:
Thermage – Anti Aging Treatment  
Thermage is an anti aging laser treatment that uses deep heat to rejuvenate and tighten deep skin tissue which causes fat cells to disrupt and skin to tighten.
Botox – Anti Wrinkle Treatment 
Botox is an anti wrinkle treatment can help take away those stress lines which can make you look angry even when you aren't.
Radiesse wrinkle filler is a next-generation product that does more than fill in lines and wrinkles.
How rosacea or redness of the skin, is treated with laser treatment.
IPL for Acne Scars and Pigmentation 
IPL is used to treat acne scars and pigmentation as well as other skin conditions.
A form of IPL, this anti aging laser treatment can be used to treat pigmentation like freckles, age spots and rosacea.
How radiowave technology can be used to remove moles, age spots, skin tags and warts.
A laser treatment such as one using the Spectra VRM II is a good choice for tattoo and scar removal treatments. Find out how.
Microdermabrasion for Wrinkles and Acne 
Microdermabrasion is commonly used for wrinkles and acne scars. This anti aging treatment can also be used to treat acne, dull skin, enlarged pores and blemishes.
Using IPL, laser hair treatment slows the growing capacity of follicles in the hair growth cycle at the time of the treatment and is a hi-tech way of removing hair permanently.
Breast enlargement without plastic surgery is now possible with breast fillers.
Cellulite skin treatment using Radio Frequency. Say goodbye to dimpled and orange peel skin forever.
LipoSelection – Liposuction Alternative 
LipoSelection uses state-of-the-art technology to reshape your body – providing smoother and faster results.
Chemical Peel Acne Facial Treatment
A chemical peel is a facial treatment using acid on the skin to achieve a controlled burn to the top layers of the skin.