Dr Georgia Lee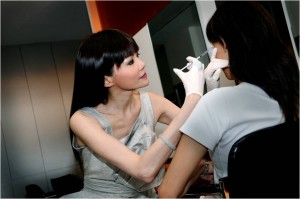 Dr Georgia Lee is one of the most renowned aesthetic and skincare doctors in Singapore and patients wait up to three months to see her!
She spent six years working in a few hospitals after graduation and opened TLC  MedicalCenter in Holland Village, in 1999, with $300,000 capital from her husband. Dr Georgia Lee started out as a general practitioner but it was a bad allergic reaction that kick-started her interest in aesthetics. "A contraceptive that I took made me develop ugly blisters on the left side of my face. The blisters went away but I was left with pigmentation that was so bad that I hid at home and people thought I was either beaten up by my husband, had herpes or had Aids."
She spent the next six to nine months researching on lotions and managed to heal her scars. "That unfortunate incident was a blessing in disguise as it got me interested in aesthetic treatments and made me want to help other people with skin ailments," shares Dr Georgia Lee.
A stickler for high quality and cost-effective aesthetic practice backed by the most up-to-date technology and pharmacy, she will fly up to the factories to talk to the engineers and meet the doctors who are using the machines before making a purchase.
Besides her winning personality and state-of-the-art treatments, Dr Georgia Lee is also renowned for her generosity. Not in the material sense, but in her genuine desire to help people. "I always give more than I get, that's why my husband says I will never be rich," she says with a laugh. She frequently organises 'self-improvement' parties for her customers – most recently, she held a make-up class conducted by famous make-up artist, Andy Lee. She pays for these parties out of her own pocket. "I also told one of my clients, a stressed-out housewife, to take time out daily for herself, and if she succeeds, her next treatment will be on the house!"
She also travels frequently around the region to offer consultations to other aesthetic practitioners and give talks.  Not one to rest on her laurels, Dr Georgia Lee has just launched her own brand of medical-based beauty and make-up products, called drgeorgialee skincare.
About drgeorgialee skincare
drgeorgialee skincare is a fuss-free regime that meets different skincare needs. Specially formulated to suit the humid climate, this skincare range uses natural ingredients such as gingko leaf extract, pampering both the face and body with its anti-oxidant and anti-ageing properties.
Building on her own clinical experience, this exclusive line of skincare features a comprehensive range of products for the busy individual who is looking for effective yet hassle-free beauty solutions.
Check out her skincare products:
http://www.drgeorgialee.com/store/
Dr Georgia Lee's clinic:  
TLC Lifestyle
27B Lorong Liput, Tel: 6462-0083