Dr Yuen Siu Mun (Dr SM Yuen)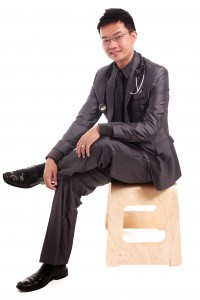 Talking to Dr SM Yuen is akin to chatting with an old friend, albeit one who knows a lot about aesthetic treatments. Friendly and open, this 33-year-old answered all my questions about laser treatments during our hour-long chat. He was also honest, for example, when I told him that I would like to try the CO2 Fractional Laser, he suggested that I do the less ablative, but cheaper Nd:YAG laser treatment, after assessing my skin condition.
Dr Yuen worked at the Singapore General Hospital upon graduating from NUS, rotating between the departments of Gastroenterology, Neurology, Renal Medicine, Cardiology, Dermatology and Rheumatology, and those early years made him develop a passion for internal medicine and preventive medicine. After spending another year in a government polyclinic, he left for private practice in 2007 to be a family physician because he wanted the special rapport that family doctors had with their patients.
"My wife and I go to spas and facials a lot but I did not find them very effective. That's why I decided to go into aesthetics as I realised that I would be able to help people more with aesthetic medicine," says Dr Yuen on why he decided to open Atlas Medical – Laser & Aesthetics Clinic and focus on aesthetic treatments a year ago. Popular treatments at his clinic include pigmentation, acne scarring and skin rejuvenation and he sees a wide range of patients from an 11-year-old suffering from acne to a 65-year-old who is looking to rejuvenate her skin.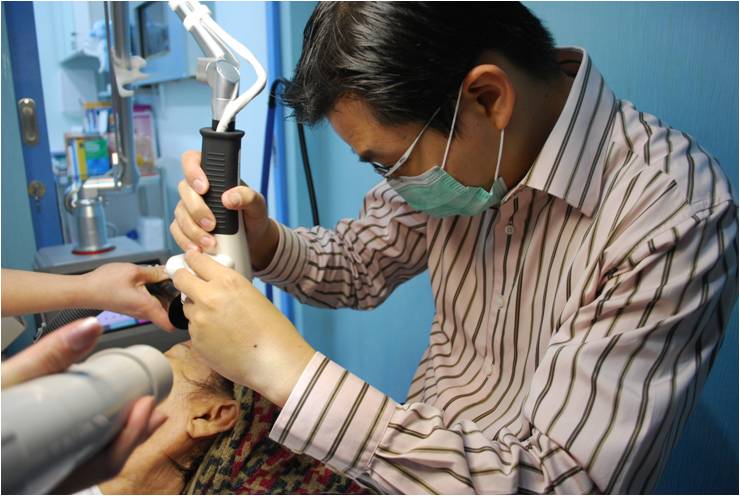 Dr Yuen performing a laser treatment
Branded as a "boutique clinic in the heartlands", Atlas offers treatments that are 30 percent cheaper than clinics in town. "Our philosophy is to offer 'heartland prices' because we are located in a major heartland but yet offer the same level of service and treatment quality you would expect to have from a clinic in town. No patient should be denied access to good aesthetic treatments for common skin problems." Despite the lower costs, Dr Yuen does not skimp on his offerings. His clinic at Ang Mo Kio is cozy and service is personalised. Patients are able to contact his therapists anytime on their mobile phones. "Some patients even MMS my staff to show them their skin conditions," he relates with a laugh.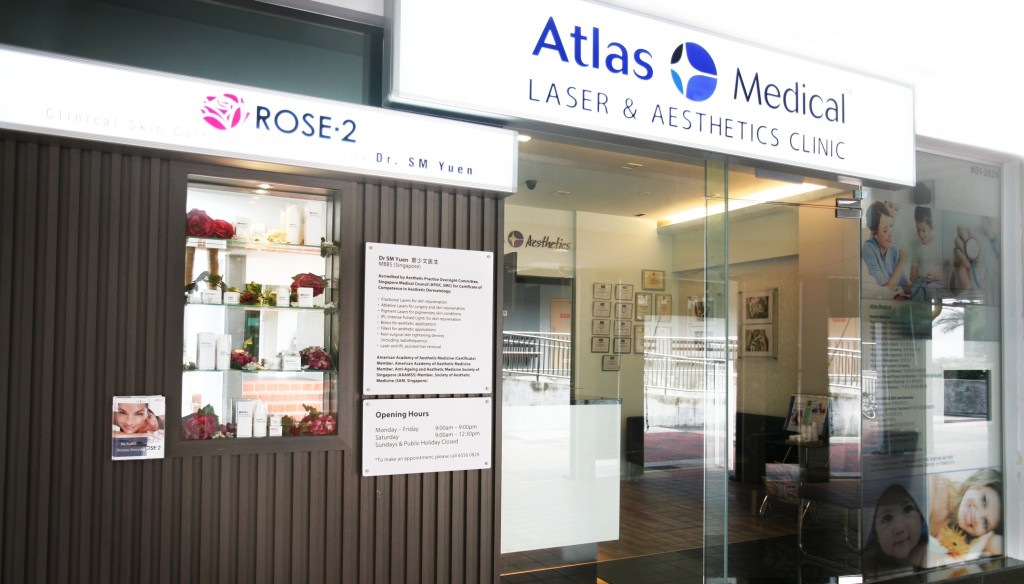 Exterior of Atlas Medical – Laser & Aesthetics Clinic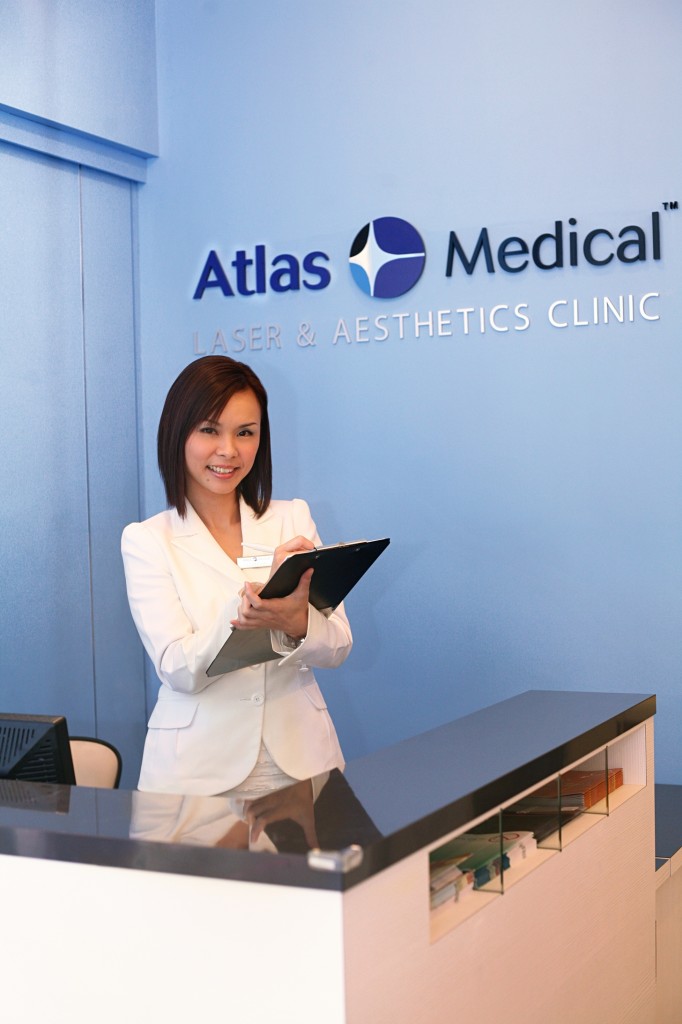 The friendly and helpful therapists at Atlas
A  strong believer of preventive aesthetics and non-invasive aesthetics, he feels that the earlier a patient starts on a disciplined, life-long skin care regime, the better skin health he or she will enjoy. Dr Yuen's vision is that medical aesthetics should become part and parcel of primary medicine, and he views it as an extension of his medical practice. Although 90 percent of patients see him for aesthetic treatments, Atlas also offers daily medical care for children and adults. "I want Atlas to be a one-stop centre with a broad spectrum of services aimed at promoting good health, inside and out," says Dr Yuen.
Apart from medicine, this doctor is also very passionate about music and is an award-winning musician. He  has performed as a keyboardist/pianist in shows with local and regional pop artistes, including Kit Chan, Tanya, Andy Lau and Zhang Hui Mei.  To expand his music interest, he founded Wedding Harmony in 2006, a wedding music company that specialises in creating original wedding love songs and providing "live" music entertainment for bridal couples.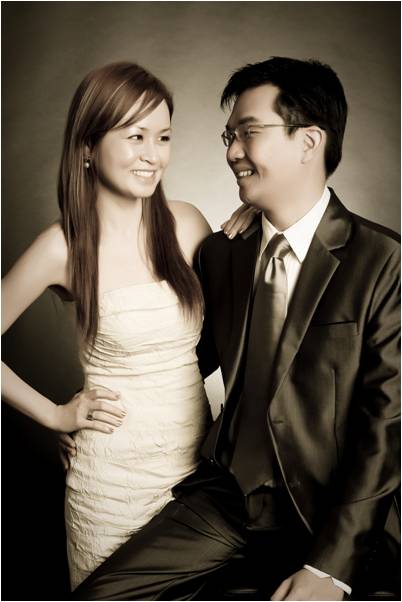 Dr Yuen with local singer/songwriter wife Lorraine Tan
Dr Yuen also attributes the catalyst of his career in aesthetic medicine to his wife Lorraine – who being the lead female vocalist/songwriter of Wedding Harmony – has to look good both on and off stage. The demands of a performing artiste also means that she can't afford lengthy downtime procedures. "Lorraine does not like invasive or painful procedures and she wants to look natural. That certainly shaped a lot of my philosophy towards aesthetics – making our clients beautiful by enhancing what they already have, while improving on flaws."
Being in the wedding industry has allowed Dr Yuen to understand the concerns and needs of wedding couples better and a big part of his aesthetic practice revolves around designing treatment programmes to help couples achieve their skin care goals and to look their best on their big day. Atlas is a partner in major bridal magazines and local and international wedding road shows.
"The modern day doctor cannot be someone who just sits in a chair, scribbles with his pen, mutters medical jargon, and whisks patients out in two minutes. He needs to be more than that. Understanding how the world works, what makes people tick, and what patients desire, is the key to being a complete doctor, all the while upholding the ethical, professional and societal responsibilities of a medical professional," adds this unconventional doctor.
Dr Yuen's clinic:
Atlas Medical – Laser & Aesthetics Clinic
722 Ang Mo Kio Avenue 8 (Ang Mo Kio Central), #01-2829, Singapore 560722, Tel: 6556 0829
* Dr Yuen is offering his treatments at promotional prices. For more information, go here:
http://www.reviewantiaging.com/best-laser-treatment-&-anti-aging-deals.html