Glow Getter

Regain your youthful glow and smooth mien with The Wellness Clinic's signature treatment.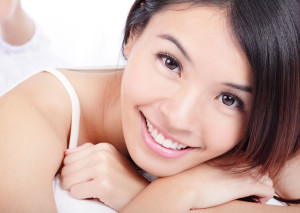 Life happens and with that, I mean the constant whirl of activities – from meeting work deadlines to family obligations and quality time with friends and partners. As much as we'd like to block out "me-time" for a facial or massage, we tend to put others first and before we know it, weariness seeps in and starts to show on our faces in the form of dull, dry skin, wrinkles and eyebags.
Fortunately, with the advent of better and more advanced technology, all you need is an hour to look your best these days. At The Wellness Clinic, their TWC Luminous is the ideal treatment to rejuvenate your skin and help you look brand new. This signature treatment programme involves a combination of proprietary procedures to rejuvenate the skin from inside out.
First, numbing cream is applied on my face, and while I waited 20 minutes for it to take effect, I relaxed and let their Osim massage chair in the waiting area pummel my kinks away. To start, Dr Ram used the Viora V-touch to deliver RF energy to stimulate collagen production, tighten my skin and enhance its elasticity, while treating mild to moderate wrinkles. This was followed by the Norseld Dual Yellow laser which helps to reduce redness and pigmentation as well as minimise pores, so that skin appears lightened and more radiant. This laser also helps to lighten dark circles under the eyes (bye bye panda eyes!).
After the comfortable 30-minute treatment, a healing serum and sunblock was applied and I left the clinic with skin that was slightly rosy. The redness went away after a few hours and my complexion felt and looked smoother and even boasted a J-Lo glow. Let 2017 be the year to treat yo'self – whether it is with a pampering facial treatment or relaxing spa-cation. After all, if you don't look after yourself well, you won't be able to look after others well too!
Cost: $650 per session
Duration: 1 hour
The Wellness Clinic
#04-09 Camden Medical Centre,
1 Orchard Boulevard, Singapore 248649
Tel: 6887 3073