Pedicure – Cure Your Feet
When most people think of pedicures, a gamut of nail colours and even some fancy nail art comes to mind. Who would pay close to $200 for a pedicure and walk away with bare naked nails? That is the mindset foot virtuoso, Bastien Gonzalez aims to change with his global and fast expanding chain of nail studios, Pedi:Mani:Cure.
Some problems you may get from pedicures (or manicures):
– Ingrown nails from cutting your nails too deep
– Infection from pushing cuticles too much
– Overly enthusiastic shaving of dry skin on feet soles
– Dry and unhealthy nails from Gelish manicures
According to this renowned French podiatrist, pedicure means curing the feet. Which is what he essentially does – with his team of experienced podiatrists, some extreme machines (dentist drill anyone?), therapeutic massages and range of products which incorporate mother-of-pearl and Chamois leather amongst other luxurious ingredients.
Playing footsie
How often do you get whisked away to a gorgeous resort to play footsie with a team of dishy Frenchmen? That was what happened to me last Sunday for the launch of Bastien Gonzalez's latest nail studio in the Intercontinental Danang Sun Peninsula Resort (this resort is mindblowing and deserves its own review – which I will do so later).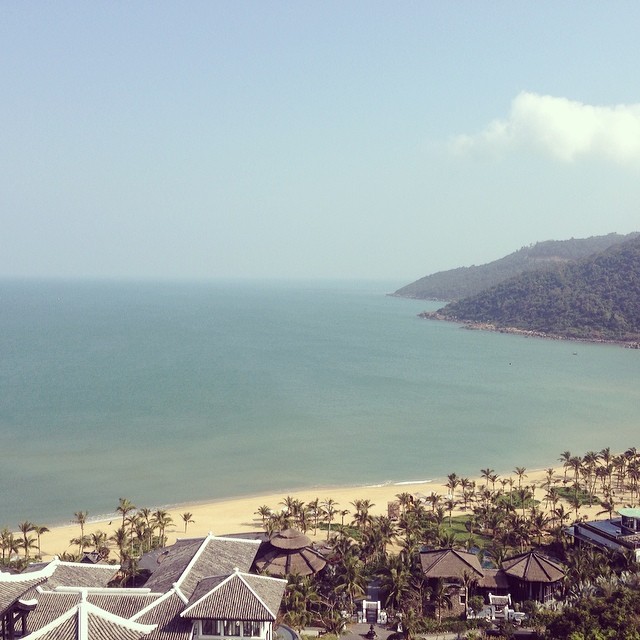 Our itinerary included champagne in the morning (well, it iz de French after all, hic!), a presentation by Bastien Gonzalez about his philosophy and techniques, followed by an indulgent three hour lunch by 3-star Michelin chef Michel Roux, at the restaurant, La Maison. After lunch, I rolled ummm…proceeded to the spa for the much-lauded pedicure feet treatment, which transformed the dry skin on my abused feet, baby smooth and my nails shiny like precious pearls.
This was not the first time I have experienced Bastien Gonzalez's fancy footwork. I was treated to an indulgent manicure and pedicure last year at his studio in Singapore at the Remede Spa in St Regis Hotel where studio manager, Steve Desobeau, changed my life. I kid you not!
You see, I have not let my toe nails breathe since I started doing pedicures when I was 21, let's just say that was a looooong time ago. Due to sheer laziness and my lack of knowledge, I would usually leave the nail polish on my nails till my next pedicure session. As a result, my nails were a funky shade of yellow, dry and bore white patches. Steve not only restored them back to a baby pink colour, but he also educated me on the harmful effects of my laziness as well as how I could maintain my healthy nails. That was almost six months ago and I am happy to report that I have been a good girl – diligently removing my nail polish after two weeks, brushing my feet during bath time and moisturising them often.
Bastien says that nail polish should be treated like make-up and we don't leave our make-up on forever, do we? Nails need to breathe and because they are porous, daily moisturising is also important. Besides the aesthetics part of your feet, it is also important to stretch your toes every night to keep them limber so that they can support you better as you age.
With his worldwide clientele of celebrities and legions of fans, it looks like his unique approach to foot treatments is gaining momentum. There is no stopping this passionate podiatrist as he aims to achieve world domination with a school as well as possibly standalone stores – outside from his usual studios within hotel spas. Talk about saving the world, one foot at a time!
To get your feet transformed, go to:
Pedi:Mani:Cure Studio
Remède Spa at The St. Regis Singapore
29 Tanglin Road, Singapore 247911
Tel: +65.6506.6896
Email: remedespa.singapore@stregis.com