"Resurface" your face without any downtime
The Aqua Peel Whitening Facial is the latest non-abrasive skin treatment that you can do during lunch and go back right to work after that.
Skin resurfacing treatments often use crystals or other abrasive particles making it unsuitable for those with sensitive skin such as myself. The Aqua ST system is the latest skin treatment that provides both non-invasive exfoliation and delivery of topical solutions to safely and painlessly cleanse, exfoliate, extract and hydrate your face. It is recommended to improve your complexion for a wide range of problems such as hyperpigmentation, dehydration, acne, photo damage, blackheads and fine wrinkles.
What to expect during treatment:
I went for the treatment during lunch time since I was told I could go straight back to work after that. The therapist first removed my make-up with a cleanser and applied rose water toner. She also gave me a light and relaxing massage on my face and shoulders. She then used the uniquely designed spiral tip from the Aqua ST machine to apply the lactic acid on my face. This multi-action serum cleans the skin deeply while softening sebum and impurities to aid extraction and exfoliation. It also provides hydration that helps to firm and smoothen fine lines. There was another option that requires application of AHA but the therapist told me that she recommends the lactic acid for my dry skin. The treatment was painless and I actually found it very soothing with the gentle sucking motion all over the face. A smaller tip was used for the more sensitive eye and nose area.
After the initial treatment, the therapist did gentle extraction on my nose and chin area which was so painless that I almost fell asleep. She also trimmed my eyebrows, and then applied a hydrating mask that was pleasantly cooling. While the mask was on for fifteen minutes, she gave me a blissful neck and shoulder massage. After peeling off the mask, she used the spiral tip from the Aqua ST machine again to apply an antioxidant serum that was formulated with vitamins A, E and white tea extract to improve the appearance of ageing signs as well as texture and clarity. I was told to leave it on for eight hours. As a finishing touch, she applied SkinLab's own brand of sunscreen gel with SPF 50. I was very happy to see that there was no redness at all and my face feels smooth. My complexion was also glowing as promised such that I didn't feel the need to apply any blusher!
How long before results are seen:
Immediately after the treatment.
Number of treatments required:
Just one treatment is required for the expected result.
Suitable for:
Anyone looking to improve their complexion. With the Aqua Peel treatment, all fears about the harshness of microdermabrasion and inconvenience of downtime are banished.
Where: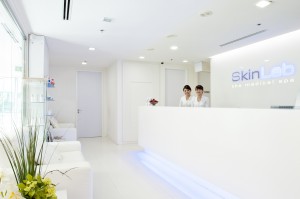 SkinLab The Medical Spa @ Plaza Singapura
#03-33
Tel: 6336 1106
SkinLab The Medical Spa@ Wheelock Place
#04-04
Website: www.skinlabmedspa.com
Duration:
The complete treatment which includes cleansing of the face, applying of medical peel, extraction, ampoule and mask takes 90 minutes.
Cost:
$260 for the 90-minute treatment.
Review by Verena Siow