Artisan WiQo MagicLift Treatment
This Italian aesthetic treatment brightens, tightens, smoothens and lifts—with no downtime!
Coco Chanel says, "There are no ugly women, only lazy women." Unfortunately, I am a lazy woman who hates applying make-up. Hence, I have been on a quest—with non-invasive aesthetic treatments, to make my skin as flawless as possible so that I can get away with being makeup and filter-free.
Mention aesthetic treatments and lasers, and injections and downtime immediately come to mind, especially when you are looking to reverse signs of serious aging like sun damage, pore size, hyperpigmentation and sagginess.
That is why I was astounded when I came across WiQo, which claims to do all that, with no downtime. How it works: Our skin has three layers—epidermis, dermis, and the subcutaneous. Inside the dermis are things called fibroblasts and this is where the laxity or tightness of the skin comes from. If you want to make real change in the skin, you need to stimulate the fibroblasts.
Here's where we get scientific…Collagen and elastin are proteins in the skin that become less effective and less present in the skin as we get older. Hence, the appearance of wrinkles and saggy skin. Collagen is (the plumping protein) and elastin (the elastin protein) reside in the dermis area of the skin, and together with fibroblasts, the connective element of tissue, work to keep skin tight. WiQo works by stimulating the fibroblasts to produce more collagen and elastin, resulting in tighter skin.
Visible Skin Benefits Include:
Reduces pore size
Reduces appearance of wrinkles and fine lines
Reduces scarring size and depth
Reduces red stretch marks
Smooths and tightens skin on face, neck and décolleté
Diminishes age spots, hyperpigmentation, melasma (face, arms, neck, chest, hands)
Each treatments builds upon the last. It is gentle and has no downtime, in fact, this magic lifting treatment from Italy was used to treat chicken pox scars for children when it first started! On average 4–6 treatments are recommended for best results. Sounds almost too good to be true so I immediately booked an appointment at The Artisan Wellness to test it for myself.
Treatment process:
After a consultation, my face was cleansed and a stem cell and peptides sheet mask placed on it for 15 minutes to hydrate and prep my skin.
The therapist then took out 2ml of WiQo 7 Collagen MagicLift Treatment Solution with a syringe, and applied it onto my forehead, gently massaging my face in an upward sweeping motion first on my left and then to my right side.
WiQo 7 Collagen MagicLift Treatment 5-point electromyostatic pressure method:
Forehead
Eye area
Cheek
Nose and chin
Neck
This step was repeated a few times to let the  7 Collagen Solution completely penetrate my skin. It was the most relaxing aesthetic treatment I've ever done as the whole process felt like a 15-minute facial massage.
A regeneration cream was applied after the pampering massage. I was also sent home with a set of WiQo's Fluido Levigante Solution and cream, and instructed to use the fully translucent solution twice a week, massaging it onto my face for 15 minutes to let it be completely absorbed, followed by the regeneration cream to the whole face, like a sleeping mask. There was no need for me to avoid the sun (which is a relief as I enjoy outdoor sports!) but I was advised to stop using any retinols and Vitamin C on my skin. Some light flaking of my skin can also be expected.
Results after Session 1:
My face was glowing post-treatment with no downtime. Even my friends whom I met for lunch complimented me on my radiant skin. Fortunately, my skin did not peel the next few days. It simply felt taut and looked lifted.
Results after Session 2:
After the usual relaxing face cleansing, mask and massage of products on my face, my complexion looked very bright and felt taut the whole day. It continued to look very smooth and my fine lines looked less obvious the next day. My skin also flaked more this round when I was massaging the serum during my home regime.
Results after Session 3:
Treatment was relaxing as usual with the fixed protocol of cleansing, photo shoot, facial mask then WiQo massage. I was also shown my photos pre-treatment. Comparing today's pictures with my before-WiQo pictures, I was thrilled to see that my complexion is fairer and smoother. See for yourself!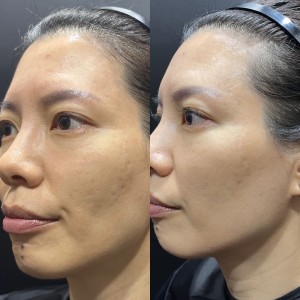 Results after Session 4:
This time, I noticed that my face was fairer and more radiant. This "glass" skin also lasted for a week.
Results after Session 5:
At my fifth session today, I felt a slight prickly sensation when the therapist massaged the WiQo serum on my face. Nevertheless, it was still extremely soothing, and I left with glowing skin like my previous treatments. My face felt taut and looked very smooth in the days that followed. I even had friends complimenting me on my "glass skin" appearance!
Results after Session 6:
Sadly, today was my last treatment for WiQo. Three months have flown by and I am excited to compare the results of my face before and after the programme. As you can see, there is a marked difference in my skin texture and radiance. There is even a lifting effect evident in the last picture!
Overall, I can't recommend this treatment enough! It is so gentle yet effective, with minimal downtime (just slight flakiness) and maximum results. Each session was also completely relaxing like a facial massage. I'm low-key loving my rejuvenated skin!
WiQo MagicLift is only available at The Artisan Wellness.
Cost: $500 per session, $350 for first trial and $2500 for 6 sessions.
The Artisan Wellness
435 Orchard Road #20-03,
Wisma Atria Office Tower,
Singapore 238877
The Artisan Wellness (Paragon Branch)
290 Orchard Road,
Paragon Medical Suites #07-01,
Singapore 238859
HP: 98187887