Uplift Your Face – The Korean Way
At Crystal Maiden Skin Professionals, they aim to give you the V-shape face without machines or needles.
Unless you have been hiding under a rock, you will notice the V-shape face trending with every doctor offering their own gamut of treatments – from Ultherapy to fillers to help you achieve that youthful Korean look. However, if you prefer the more natural way – that is with products and facial massages, look no further than Crystal Maiden Skin Professionals. This cosy beauty salon is known for their organic facials but they also have a series of uplifting facials using Korean products that claim to sharpen the face as well as treat saggy and wrinkled skin. This range of skincare is high in molecular polymer that is made of dissolved porous mineral. It absorbs carbon dioxide in the air and transforms to gel form when contacting slightly acid skin. In the process of gelation, porous inorganic compound is absorbed onto skin impurities and decomposes fat, lifting sagging skin. It also improves wrinkles and makes the skin resilient.
Treatment process:
I was recommended the Super Lifting Facial which aims to solve skin ageing problems as well as help create a more defined V-shape. Mandy, my therapist, first double cleansed my face, then applied an exfoliating scrub that was gentle enough to use around my eye area. Then, she did a mild extraction (after checking if I wanted it), after which she applied a Lifting Cream and used an RF machine to massage my face. This was followed by another face, head and shoulder massage with her hands using acupressure and firm strokes.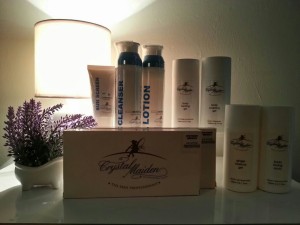 Lastly, a Lifting Pack mask was applied on my entire face, covering my eyes and lips even! As the mask dried, I could feel it lifting and tightening my face to the point where my eyes and lips were slightly pried open. Very interesting indeed! After about 10 minutes, Mandy gently washed the mask off and finished this relaxing treatment by applying moisturiser and sunblock to my face and neck.
Results:
My skin felt firm and lifted and looked slightly rosy. I also felt that my under eye area looked less wrinkly. This facial is said to benefit sagging skin, enlarged pores, skin discoloration and fine wrinkles. With regular treatments, it will help to keep skin resilient and adjust facial line to a more defined V-shape.
For more information about this facial, check out this video:
Treatment Duration: 120 minutes
To make your appointment, contact Crystal Maiden Skin Professionals:
Tel: 67354540 / 90922807
1 Coleman Street, The Adelphi #03-52, Singapore 179803
Opening hours:
Weekdays 11am – 8.30pm
Saturday 11am – 7.30pm
Close on Sunday, Monday & PH